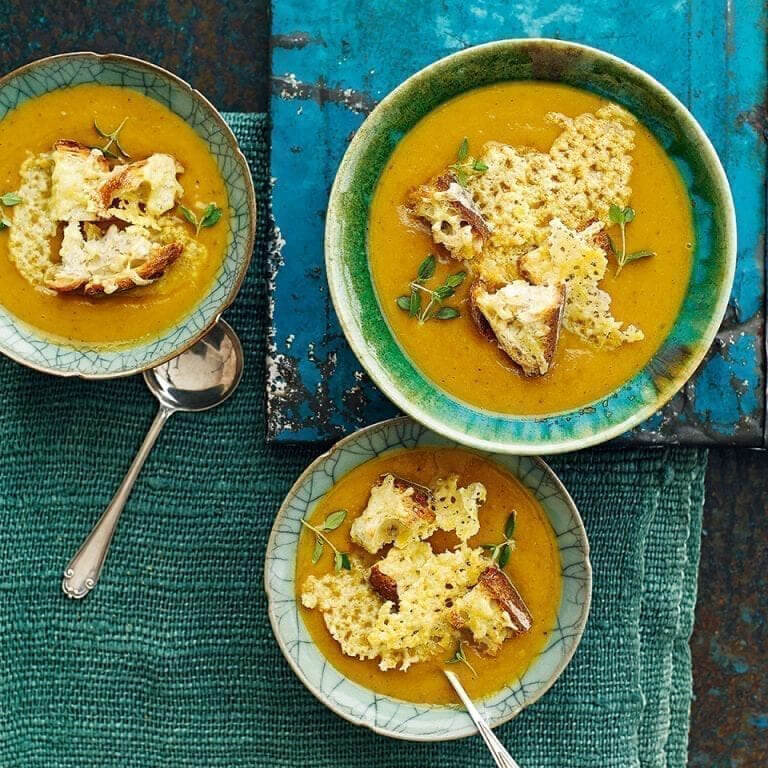 Squash and apple soup with cheddar croutons
Serves 6
Hands-on time 25 min, oven time 50 min
Nothing beats a bowl of soup on a cold autumn day, this recipe pairs squash and apple with mature cheddar for a flavour packed meal.
INGREDIENTS
1 medium squash

Olive oil

2 onions

3 apples

1½ tbsp grated horseradish (from a jar)

1 litre vegetable stock

200g good quality bread

100g mature cheddar

Fresh thyme sprigs
METHOD
Heat the oven to 200°C/180°C fan/gas 6 and line a baking sheet with baking paper. Roughly chop and deseed the squash, toss with a glug of olive oil, season and spread over a large baking tray. Roast for 10 minutes.

Cut the onions and apples into wedges, then add to the tray. Roast for 40 minutes, tossing occasionally, then put everything in a large saucepan. Add the horseradish and vegetable stock, then season very well. Bring to a simmer, then blend until smooth. Keep warm.

Tear the bread into small chunks, toss with a glug of olive oil, then spread over the prepared baking sheet. Grate over the cheddar, filling the gaps between the bread with cheese. Bake for 8-10 minutes until golden and crisp.

Ladle the soup into bowls, then lay the cheesy croutons on top and scatter with fresh thyme sprigs.
Mushroom Ragu with Parsnip & Carrot Mash
Serves 2
Hands on time 10 min, cooking time 40 min
All the lovely earthy flavours of mushrooms, in a rich and smoky sauce. Spoon it over the vibrant, healthy parsnip and carrot mash for the perfect dish to make your belly happy. 
INGREDIENTS
For the Ragu:
olive oil
1 onion, roughly sliced
1 celery stick, finely sliced
4 garlic cloves, sliced
1 tsp smoked paprika
1 tsp dried oregano
1 tbsp tomato purée
2 tbsp red pesto
250ml veg stock
400g mushrooms, chopped
100ml red wine
1 tbsp balsamic vinegar
1 tsp tamari or soy sauce
fresh thyme leaves plus extra for topping - add to your taste
sea salt & black pepper
For the mash:
400g parsnips peeled & cut into cubes
200g carrots - peeled & cut into cubes
3 tbsp nutritional yeast
METHOD
Add the onion, celery and 2 tbsp of olive oil to a large pan on a medium heat and fry for 8-10 minutes until very soft.
Add the garlic, paprika and oregano and stir to combine, then add the tomato purée, pesto and veg stock and simmer for 1-2 minutes.
Add the mushrooms and red wine, stir to combine and cook for a further 2-3 minutes. Reduce the heat and simmer for 15 minutes.
Stir in the balsamic vinegar, tamari and fresh thyme leaves (to your taste) and season with salt and pepper.
Meanwhile, to make the mash, boil the parsnips and carrot in a saucepan of boiling water for approx. 12-15 minutes or until tender.
Drain the parsnips and carrots and transfer to a food processor along with the nutritional yeast and 2-3 tbsp of olive oil. Blitz until smooth and creamy, adding a little water if needed for a looser texture. Season to taste with salt and pepper.
Serve the mushroom ragù on a bed of creamy mash with some extra thyme leaves to garnish.