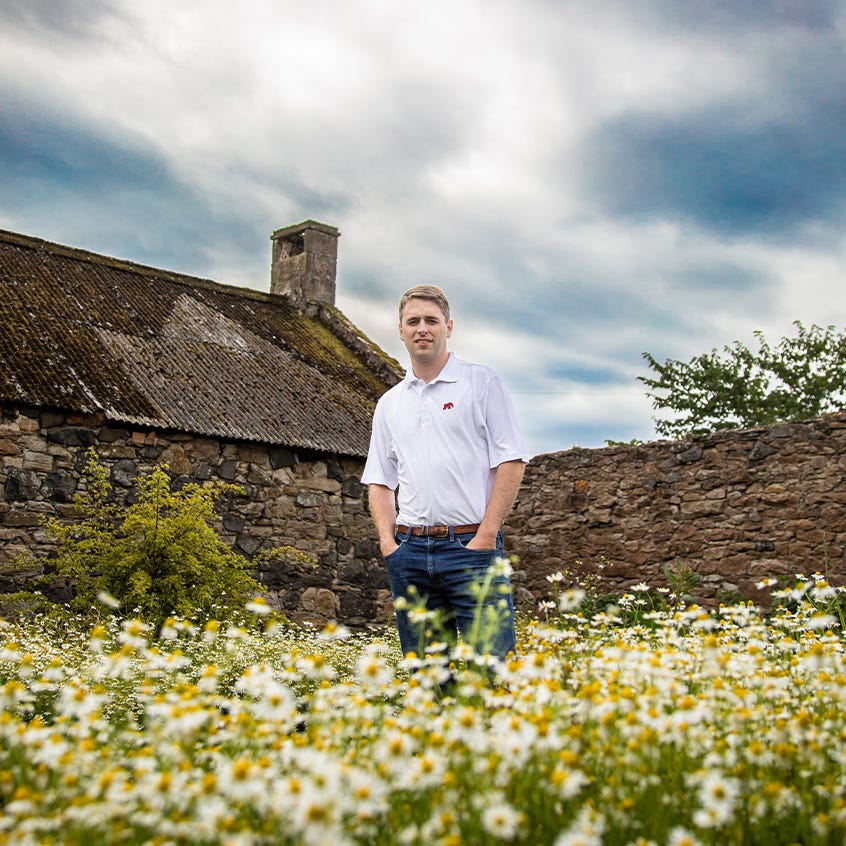 Our Co-Founder Bill Garnock sat down with Daylesford Organics on Burns Night to chat all things Scotland!
IN A COUNTRY FAMED FOR ITS WHISKY, HOW DID THE BUILDING OF A DISTILLERY TO MAKE A NON-ALCOHOLIC WHISKY SUBSTITUTE GO DOWN?
Scotland is world famous for its food and drink, thanks to our amazing natural resources, landscape and the skills of farmers and producers. Scotland is home to some of the world's finest food and drink brands which can be found in the best bars, restaurants, and shops (including Daylesford!)
Feragaia is the next chapter in this illustrious history and reputation of Scotland. Whilst respecting traditional distillation methods, we applied modern thinking and were able to produce a world class alcohol-free spirit in the process. Scots may enjoy a good alcoholic tipple, but that doesn't limit our enjoyment of other things in life, whether that is the outdoors, sport, family, music, culture – we are a nation who enjoys living!
Feragaia is for everyone regardless of age, religion, or lifestyle. When we opened our distillery, we found people were intrigued to see and hear more about exactly what an 'alcohol-free spirit' really is.
TO SOMEONE WHO HAS NEVER DRUNK FERAGAIA, HOW WOULD YOU DESCRIBE ITS FLAVOUR?
Feragaia has a delightful, refreshing depth of flavour which is excellent with mixers and in cocktails, bringing a feeling that you are having a proper 'drink'.
The top notes of fresh lemon verbena and blackcurrant leaf provide a fresh, vibrant first impression. The body includes more relaxing and calming notes from chamomile flower and native sugar kelp. The finish has a touch of warmth and spice from pink peppercorns and ginger root.
FERAGAIA HAS B CORP CERTIFICATION; CAN YOU TELL US MORE ABOUT YOUR COMMITMENT TO THE ENVIRONMENT AND SUSTAINABILITY AND WHY THIS WAS A FOCUS AS A NEW COMPANY?
We believe every business should have a proactive approach to sustainability and environmental initiatives. When we launched in 2019, this was at the heart of our agenda. From our 100% recycled glass bottles to our local supply chains in Scotland, Feragaia recognises the importance of ethics and sustainability.

On my farm in Fife, we grow four of our ingredients (chamomile, blackcurrant leaf, lemon verbena and bay leaf). These plants are native to Scotland, which opens a conversation surrounding sustainable farming. We produce Feragaia within a 10-mile area of the farm, which benefits the environment and the local community.

We also enjoy working with other likeminded, environmentally forward-thinking businesses, including Greensea Solutions on the wild Ardnamurchan Peninsula (where we source our sugar kelp, planting sustainable beds for both sugar kelp harvest and carbon capture). Seawilding are another young business we work with in Scotland, they look after the fragile seagrass population around our coastline.
FERAGAIA MEANS "WILD EARTH" AND YOUR MISSION IS ALL ABOUT RECONNECTING PEOPLE TO NATURE – HOW DO YOU GO ABOUT THIS?
Fera means "wild" in Latin and Gaia means "earth" in Greek.

In a world so dominated by noise, distraction, and lack of personal touch, Feragaia helps one slow down, savour, enjoy, and reconnect.

We love hosting events that bring people together, such as harvest barbecues at our farm or taking over the Fingal floating hotel in Edinburgh to create a meeting point for wild swimmers.
HOW WOULD YOU RECOMMEND SERVING FERAGAIA AND WHAT FOODS PAIR WELL WITH THE DRINK?
Simply pour 25-50ml Feragaia into a rocks or highball glass, add ice, a premium mixer and garnish (my preferred is ginger ale and a slice of lime). The great thing about Feragaia is there are no rules, our customers all enjoy it in many ways including mixed with tonic, lemonade, soda, neat, and in cocktails.

Feragaia, soda and lemon is a healthy, refreshing, sugar-free drink to enjoy with many dishes, especially tapas, fresh salads, and seafood (try oysters alongside a cold Feragaia & tonic). Feragaia and ginger-based mixers make a lovely digestif to enjoy with desserts.