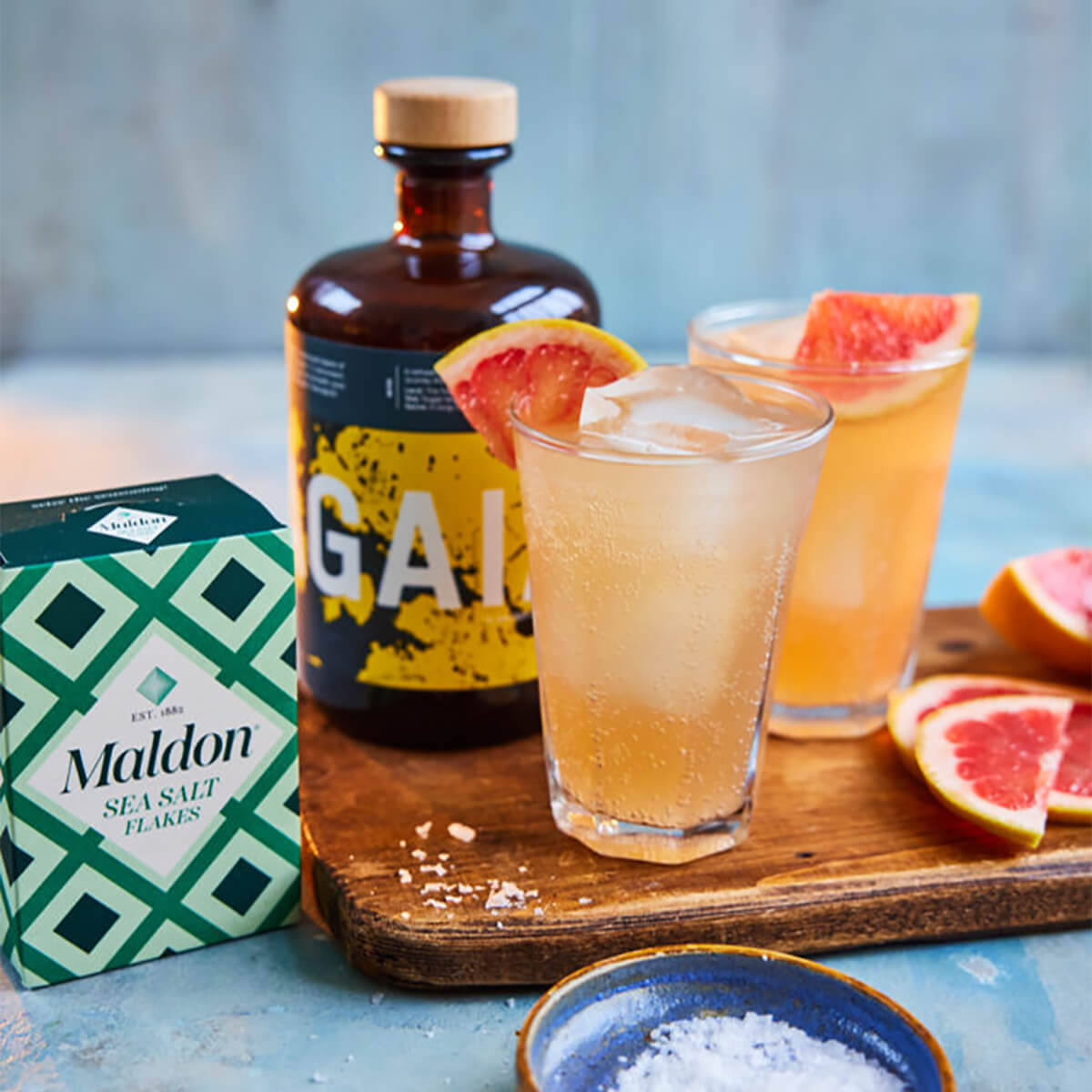 Our friends at Maldon Salt wanted to find out a little bit more about Feragaia; the inspiration behind the brand, Bill and Jamie's story and our favourite food pairings. We loved speaking to them and putting together our Feragaia x Maldon Salt Paloma cocktail so we thought we'd share the piece for you to have a read for yourselves:
We are BIG fans of your drinks! Tell us, what inspired you to make an alcohol-free spirit?
We love to hear it, thank you! We're huge admirers of the heritage and quality of Maldon. For me, Feragaia started with a question that I kept on coming back to. It was 'why do I feel so trapped by alcohol?' Working in spirits gave me a high exposure to alcohol, combined with a traditional English drinking habit – I found it relentless and restricting. I concluded that confidence could answer my question and so I set about developing a premium, unapologetic and confident alternative. So people can have a equal choice – very democratic!
How would you describe the taste of Feragaia?
It's an original and unique taste, with a refreshing depth of flavour. 14 carefully selected botanicals create a layered and wild journey through land~sea~spice.
We've done some research and found that 'Feragaia' translates to 'wild earth'. Is there a correlation behind your name and your drinks?
You got me! In a small way perhaps, but Wild fortunately evokes so much more than just me. Like so many, Earth's wild places are places that Bill and I greatly value and crave connection to. It was this shared core belief that established the Wild/Fera seed!
What an accomplishment in becoming the first working alcohol-free distillery in Scotland! We would love to know Jamie and Bill's story on how Feragaia was born to where it is now.
Thank you. It is something we are incredibly proud of. We've always wanted to set the benchmark for transparency and quality in this category, there is too much 'smoke and mirrors' and it's hurting the reputation of alcohol-free spirits. Bill is the Scottish one in Feragaia and was the driving force behind our provenance and process, out of which was born Feragaia's respecting of Scotland's rich heritage of premium spirits and progressive nature.
Would you say the alcohol-free movement is becoming more popular as the years go on?
Absolutely! Since launching Feragaia in 2019 we have sampled thousands of people.  I can confidently say people's curiosity and confidence in alcohol alternatives has and continues to grow. I expect this to be the case for some time.
We've seen you make many delicious cocktails, what would you say your top 3 favourites are?
In order of simplicity. I love our perfect serve 'Wild Ginger' 50ml Feragaia, Ginger ale and a slice of lime. Next up, our most popular cocktail serve – 'Paloma' 50ml Feragaia, Pinch of Maldon salt, squeeze of pink grapefruit and topped with tonic. Finally, it took me months to perfect this one, but the 'Smokey Old Fashioned' with a large ice block brings me great joy. Lapsang Souchung tea, ginger syrup, lime and Feragaia. It really redefines in my mind what an alcohol-free drink can be.  
How would you try and convince someone who has never purchased an alcohol-free spirit to give it a try?
"I still drink alcohol, but sometimes I can't or I'd rather not. In which case why should I sacrifice my experience, and feel left out?" Feragaia, is the original-free spirit that is redefining alcohol-free through its refreshing depth of flavour that's distilled at our very own distillery in Fife, Scotland. It allows you to have a sophisticated and delicious drink to savour and enjoy during those moments where alcohol is to be avoided – how about a taste?"
What food would you say pairs well with Feragaia?
We talk about depth and length of flavour as this is what slows you down and makes Feragaia 'a drink' apart from a soft drink, juice, tea etc.  The long finish is very complimentary when eating as there isn't too much of a clash on the top of the pallet. I've always liked the combination of some savoury appetisers like roasted nuts and Feragaia in that aperitif moment. If I'm really pushing the boat out then the link between our land & sea botanicals and oysters are quite special!
Your bottle and cap are both 100% recyclable and the botanicals used are composted after distillation. Is this a topic in which you are passionate about?
We tried to register ourselves on B Corp before we registered on companies house! Then we realised we needed to have a registered business to apply for B Corp. At the core of our business lies a belief that truth, authenticity and purpose are 'must haves' today. We have developed a sustainable foundation on which Feragaia can grow and meaningfully support the changes that we need to make together in the world.
Now…we are very much excited to announce that Maldon Salt is in the Paloma recipe. What is your favourite way to enjoy Maldon Salt in a drink?
I love the story of land and sea, which could be more apt for Maldon Salt. Salinity when used in drinks correctly is really effective. You just can't better the Paloma, bitter citrus, saline complexity and the defining depth of Feragaia – It is complete! Sláinte  

Maldon Salt