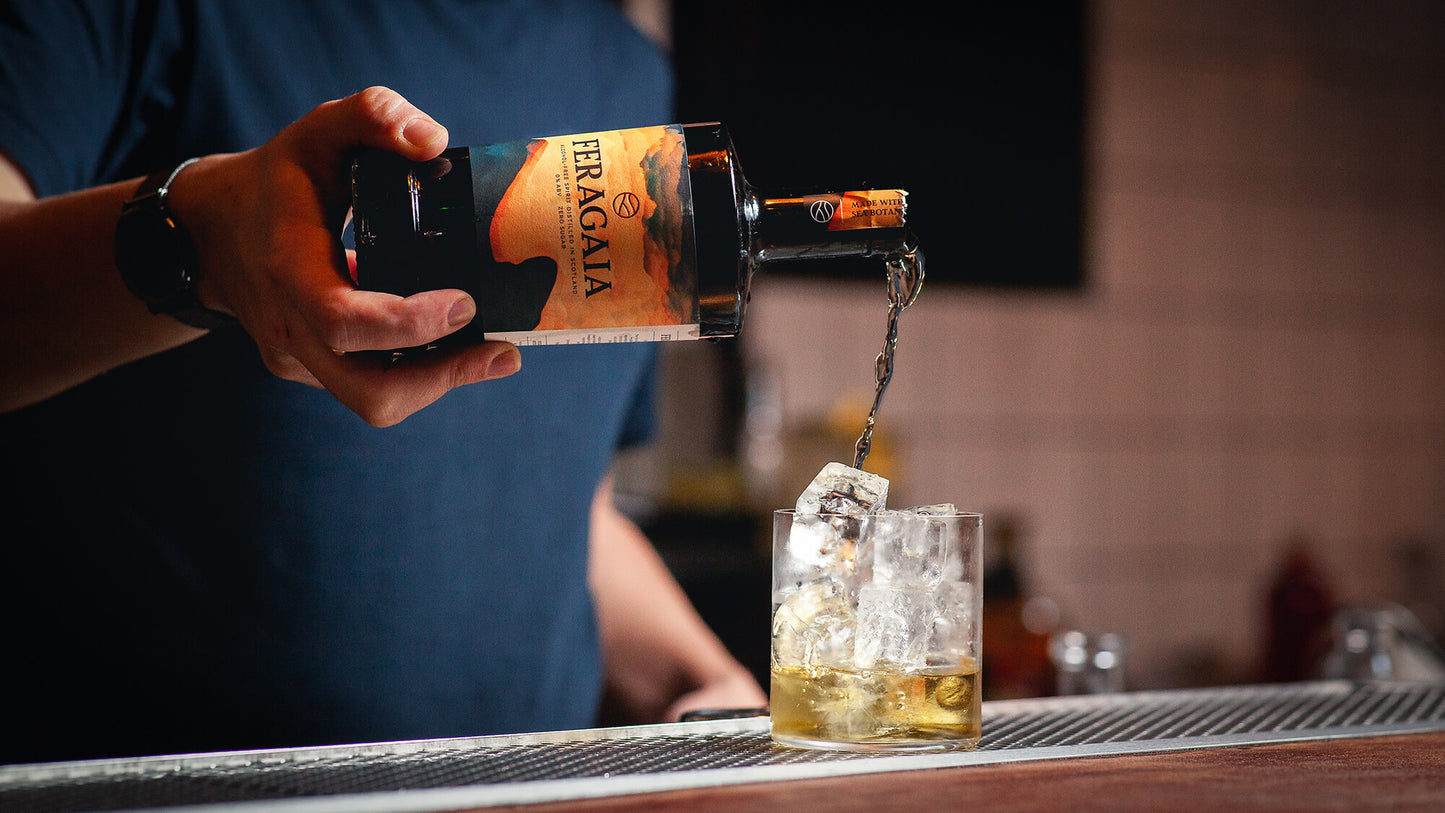 In Edinburgh, the bars are renowned for their atmosphere, tradition and interesting range of different spirits. Whilst Scotland is famous for whisky, Feragaia is pioneering its own traditional Scottish spirit in its own authentic way. Feragaia, a Scottish alcohol-free spirit, is redefining alcohol alternatives through its unique taste and refreshing qualities. There is no comparison when drinking Feragaia, this innovative drink creates a new realm of drinking by bringing together flavours from land, sea and spice and since its launch in 2019 this original spirit has been thriving in the captivating and authentic city of Edinburgh.
Here are 5 of our favourite bars that we recommend you visiting in Edinburgh:




1. Juniper Bar
Twenty Princes Street Hotel, 20 Princes Street, Edinburgh, EH2 2AN
https://juniperedinburgh.co.uk/
Located in the heart of Edinburgh, this bar boasts many awards and is renowned for its bespoke cocktails with a twist. It is a hit with locals and visitors alike, due to both the incredible views across the city and its innovative take on the Edinburgh drinks scene. The cocktails are fresh, creative and explorative, with the team at Juniper Bar concocting the most wild and extravagant cocktails, playing with different spirits and flavour combinations.  Whether it's smokey bacon foam or squid ink cocktails, they know how to be creative. You can find Feragaia here, aligning with the boldness and passion of the bar.





2. The Raging Bull
161 Lothian Road, EH3 9AA - Edinburgh cocktail bar
https://theragingbulledinburgh.co.uk/ 
A lively atmosphere in this Edinburgh cocktail bar, creating colourful and adventurous cocktails close to the West End and Grassmarket. As you walk through the door, check out the mural of the Raging Bull himself enjoying a drink with his partner. The ambience of the place is comfortable yet stylish, with rustic wall and  natural foliage. The Raging Bull takes its alcohol seriously, but clearly has fun whilst doing it, so be prepared for an eventful time! This bar is the number one spot for Espresso Martinis - be sure to try the Feragaia infused Espresso Martini.



3. Hoot the Redeemer
No. 7 Hanover St, Edinburgh, EH2 2DL
http://hoottheredeemer.com/
Come to Hoot the Redeemer if you like the idea of being transported to 1950s New Orleans. This fun-fair themed dive bar is an experience, offering iconic arcade games which invite guests to create their own concoctions (with a claw machine!). At Hoot the Redeemer, there is a surprise around every corner.  Drink in the full atmosphere of this establishment and revel in the resulting sensation of child-like glee.



4. The Register Club
42 St. Andrew Square, Floor 4, Edinburgh, EH2 2AD
https://www.theregisterclub.com/
Located on the 4th floor of Cheval The Edinburgh Grand, the Register Club offers a contemporary hangout found within a historical landmark. What was once the Royal Bank of Scotland, is now a sophisticated club and the ideal location to enjoy a few cocktails. There is a wide variety of drinks carefully curated by head bartender, Rueben, including a few Feragaia favourites.The Register Club is definitely worth a visit if in Edinburgh, the ideal spot to relax and rejuvenate after a busy day in the city.



5. Good Brothers Wine Bar
4-6 Dean Street, Edinburgh, EH4 1LW
https://www.goodbrothers.co.uk/

Last, but not least we have Good Brothers Wine Bar, located in Stockbridge on Dean Street. This bistro style establishment is just off the main street in Stockbridge, working closely with local businesses and stocking the best quality produce. Whilst it has a strong focus on wine, there are some outstanding cocktails on offer as well. You can enjoy an 'Earthy Ginger' here, a cocktail which combines Feragaia with fiery ginger beer and a touch of mint. A great spot for local products and authentic experiences and all with an progressive undertone of sustainable drinking.