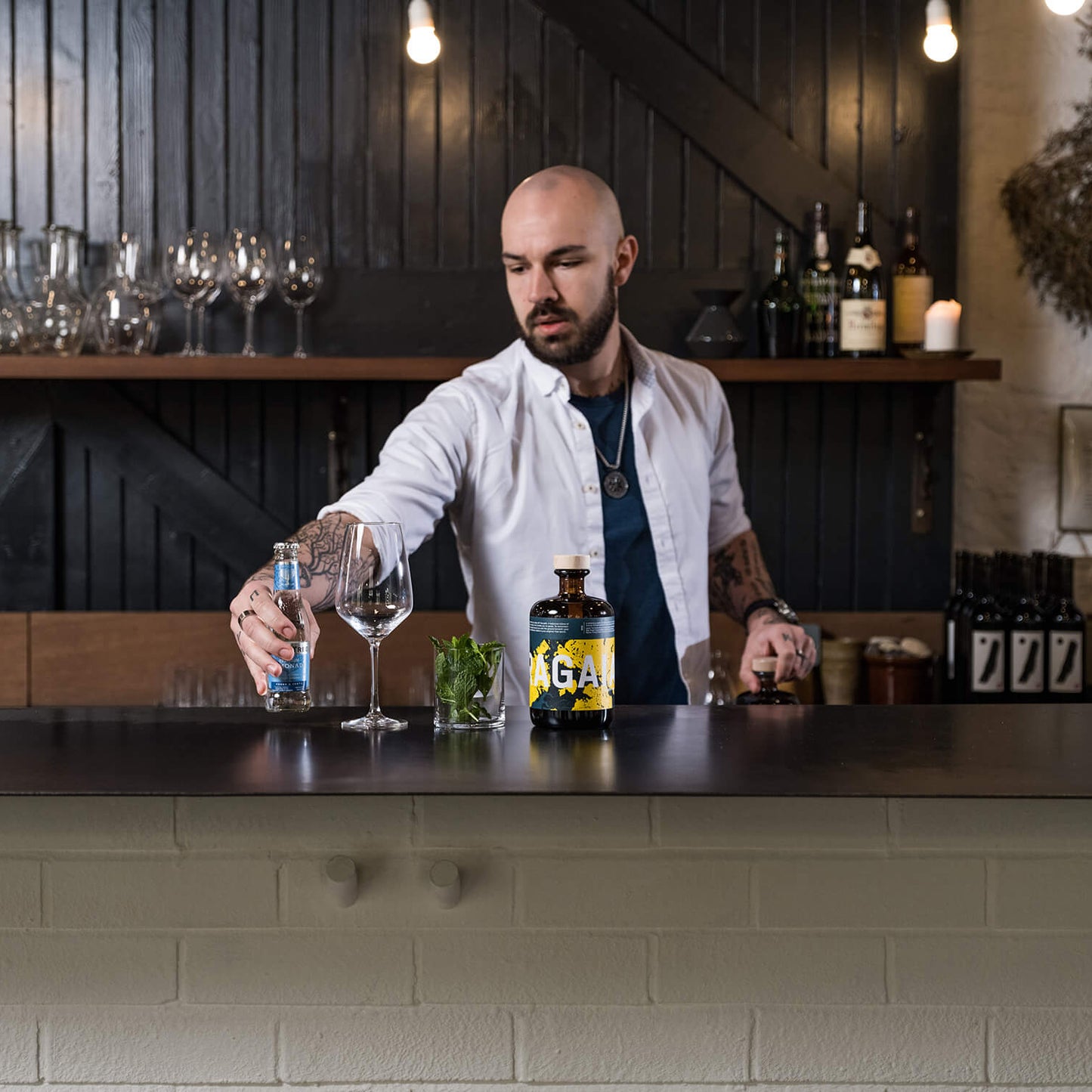 Please explain the concept behind the bar at KORA -
Being a Tom Kitchin venue, KORA strives to abide by a 'nature to plate' concept by showcasing the best of local and seasonal produce. The aim as I understand it was to create a friendly neighbourhood restaurant backed by the expertise of a Michelin starred team. With this in mind, the bar at KORA aims to provide elegant drinks and a people centric service. Our wines are selected to pair beautifully with food and our cocktail offering looks to hold their own and showcase the best of Scotland by using fresh ingredients served with elegance and finesse.
What attracted you to Feragaia?
So the foundation of this answer is that I am a cocktail bartender first and a manager second. I love exciting spirits that I can really play around with. Feragaia plays beautifully with everything from citrus to spice, sweet to savoury drinks and as such has become a staple on our back bar. For us, this was about bringing our non-alcoholic cocktail offering up to par with our drinks menu and offer an experience of the same quality, just minus the alcohol. That's where Feragaia came in!
How do you bring sustainability in to your work?
This is always a touchy topic for any restaurant or bar. Being sustainable on a bar is no easy task so we have adopted a 'better every day' approach as opposed to a perfectionistic one. This falls into two simple categories of approach:
1) Make sure to use the whole thing. If we need orange peels, we'll make sure to cut in a way that allows us to get two variations of cuts but using the whole peel. We'll then juice the orange and put that in a drink. Nothing goes to waste.
2) Are there byproducts from the kitchen we can use? Be it breadcrumbs or chickpea water, many of the kitchens waste products act as free resources for us, helping both the planet and us!
Favourite way to serve Feragaia?
Stirred down with a homemade cordial, martini style. Elegant, tasty, fresh.

Discover KORA by Tom Kitchin -
KORA by Tom Kitchin - A Nature to Plate Restaurant (korabytk.com)